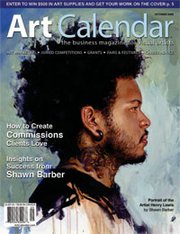 ON THE COVER:
Portrait of the Artist Henry Lewis
By Shawn Barber
Oil on canvas, 28" x 22". (See profile on page 16.)
Download a Digital Copy of this Issue
---
Features
07 How an Animal Portraitist Breeds Clients
08 Making Commissions Part of Your Business
10 The Art of Commissioned Work: Communicating with Your Clients
By Laura Tryon Jennings
12 Earn Your M.A. or M.F.A. Online
By Kim Hall
14 Writing Your Artist Resume
By Annie Strack
16 Tattooed Sargent: The Business Prowess of Shawn Barber
Departments
04 From the Editor
05 Art Scuttlebutt: Letters, tips and what's happening online. Read about our Cover Contest.
34 The Listings: Compiled by the Art Calendar Team
Your best source for art opportunities. Find awards, galleries reviewing portfolios, grants, fellowships, juried shows, festivals, residencies, conferences and professional development courses.
44 ArtScuttlebutt.com Member of the Month: Suzanne Berry
By Louise Buyo
Section 2
19 Creating Permanent Records of Your Work
By Teri Franks, Founder and CEO of Fine Art Registry
22 Trusts and Estates
By Gay Jervey
23 Ten Ways to Appeal to Investors
By Miller Gaffney, Art Advisor
24 Low-cost Legal and Accounting Assistance
Columns
28 Art Law: Commissions without a Contract
By William F. Zieske, Coco Soodek & Matt Petersen, Attorneys at Law
31 Heart to Heart: The "Won't-Fail" Artist
By Jack White
32 The Photo Guy: The Magic of Flash Memory Cards