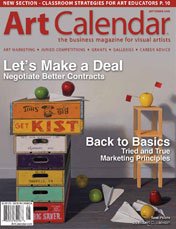 ON THE COVER:
Test Pilots (detail)
Oil on linen, 46" x 46". (See profile on page 24.)
Download a Digital Copy of this Issue
---
Features
18 Negotiating a Contract with an Art Dealer
By Matthew Daub
21 10 Ways to Get the Best Consignment Contract
24 Robert C. Jackson: Finding the Right Fit
By Kim Hall
Columns
28 The Photo Guy: Fine Tuning Your Camera for Artwork Photos
30 Coaching the Artist Within: Creative Tourism Part IV
31 Heart to Heart: Brick by Brick
By Jack White
Departments
04 From the Editor
05 Art Scuttlebutt
06 Art School Confidential
07 Gallery Talk: Focus on Austin
08 Motivation: Setting SMART Art Goals
09 Call to Service: Art for Animals
Contributed by Carrie Jacobson
10 Teacher's Toolbox: Student-Made Textbooks
14 Art Entrepreneur: Tried and True Marketing Principles
16 Art Law: Licensing Your Art for Product Manufacturing
By Amy B. Goldsmith, Attorney at Law
32 The Listings: Compiled by the Art Calendar Team
Your best source for art opportunities. Find awards, galleries reviewing portfolios, grants, fellowships, juried shows, festivals, residencies, conferences and professional development courses.
40 ArtScuttlebutt.com Member of the Month: Fred Calleri
By Louise Buyo