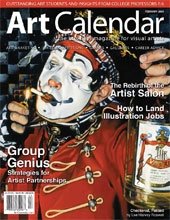 ON THE COVER:
Checkered, Passed
Oil on canvas, 10" x 10". (See profile on page 44.)
Download a Digital Copy of this Issue
---
Features
18 Pros and Cons of Collaboration
21 Collaboration Strategies
25 The Pursuit of Prestige
By Louise Buyo
28 Start an Artist Salon
Columns
30 The Photo Guy: Digital Cameras for Hard Economic Times
32 Heart to Heart: Scams
By Jack White
34 Coaching the Artist Within: Build a World
Departments
04 From the Editor
05 Art Scuttlebutt
06 Art School Confidential
07 Gallery Talk: Focus on Philadelphia
08 E-Strategies: An Introduction to Google Analytics
By Petra Jones
12 Freelancer's Corner: How to Land Freelance Illustration Jobs
14 Teacher's Toolbox: Student-Made Textbooks
14 Gallery Insights: The Dark Side of Artist Co-ops
By Milon Townsend, with Diana Moses Botkin
16 Art Law: The Legal Side of Collaboration
By John Paul Benitez, Attorney at Law , Bryan Cave LLP Art Law Group
35 The Listings: Compiled by the Art Calendar Team
Your best source for art opportunities. Find awards, galleries reviewing portfolios, grants, fellowships, juried shows, festivals, residencies, conferences and professional development courses.
44 ArtScuttlebutt.com Member of the Month: Lee Harvey Roswell
By Louise Buyo