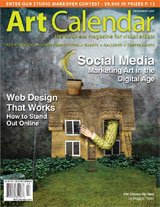 ON THE COVER:
I'm grown up now.
Digital Montage. (See profile on page 30.)
Download a Digital Copy of this Issue
---
Features
20 Social Networking: Marketing in the Digital Age
24 Second Life: Networking in a Virtual World
28 How to Target Smartphone Markets
By Terri Kleckner
30 Maggie Taylor's Digital Dreamscape
By Louise Buyo
34 How to Work with a Professional Web Designer
By Gay Jervey
38 Boost Your Web Site's Search Engine Positioning
By Deborah Morris
42 How to Protect Your Images on the Web
By Petra Jones, with contributions by Steve Meltzer
44 Is Your Privacy Policy Good Enough?
Columns
31 Heart to Heart: Pressure
By Jack White
30 Coaching the Artist Within: Creative Tourism Part III
Departments
04 From the Editor
05 Art Scuttlebutt
06 Art School Confidential
08 Gallery Talk: Focus on Phoenix
10 Art Law: When, Why and How to
Register Your Copyright
By Jennifer Unruh, Attorney at Law
14 Business Essentials: Understanding Digital Jury Services
By Annie Strack
16 Art Entrepreneur: 12 Ways to Survive the Recession
By Ligaya Figueras and Kim Hall
48 The Listings: Compiled by the Art Calendar Team
Your best source for art opportunities. Find awards, galleries reviewing portfolios, grants, fellowships, juried shows, festivals, residencies, conferences and professional development courses.
40 ArtScuttlebutt.com Member of the Month: Phil Napala
By Louise Buyo