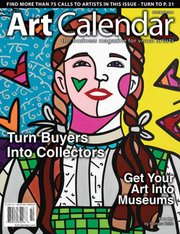 ON THE COVER:
Dorothy
Acrylic on canvas, 40" x 40". (See profile on page 22.)
Download a Digital Copy of this Issue
---
Features
14 Turning People on to Art: Cultivating Collectors by Educating Them
16 Building and Cultivating Relationships with Collectors
By Matthew Daub
22 Romero Britto: Art Superstar
Interview by Louise Buyo
26 Getting Art into Museums: What Artists Need to Know
Columns
27 Coaching the Artist Within:The Anxiety of Deadlines: Notes from the Trenches
34 The Photo Guy: Fine Art Prints and the Digital Image
35 Heart to Heart: Pruning Season
By Jack White
Departments
04 From the Editor
05 Art Scuttlebutt
06 Art School Confidential
07 Gallery Talk: Focus on Charlotte
08 Artists Who Inspire
By Renée Phillips, The Artrepreneur Coach
11 Motivation: Supporters and Saboteurs
12 Art Law: Licensing Rights to Collectors
By Maria A Savio, Esq.
16 E-Strategies: Social Networking for Artists: 45 Tips for Success
By Renée Phillips, The Artrepreneur Coach
31 The Listings: Compiled by the Art Calendar Team
Your best source for art opportunities. Find awards, galleries reviewing portfolios, grants, fellowships, juried shows, festivals, residencies, conferences and professional development courses.
40 ArtScuttlebutt.com Member of the Month: Michael Shemchuk
By Louise Buyo