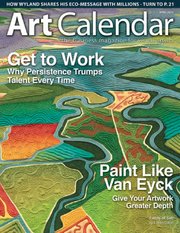 ON THE COVER:
Fields of Salt
By Linda Gass
Acrylic and mixed media on canvas, 72" x 60". (See profile on page 38.)
Download a Digital Copy of this Issue
---
Features
21 Wyland and His Underwater World: Sharing a Message of Conservation with Millions
24 Linda Gass: Protecting the Earth, One Artwork at a Time
By Kim Hall
28 The Power Flower: Inspiring Grassroots Change
By Melanie J. Martin
30 Donate Your Art to Charities and Nonprofits
By Renée Phillips, The Artrepreneur Coach
Columns
34 Coaching the Artist Within: Even Artists Get the Blues: A Good Therapy for Depression
36 The Photo Guy: Image Editing for Color and Contrast
38 Heart to Heart: Throwing Mud Balls
By Jack White
Departments
04 From the Editor
06 Art School Confidential
07 Gallery Talk: Focus on Tampa, FL
08 Motivation: The Gift of Persistence
By Matthew Daub
11 Motivation: Develop Your Voice
12 Art Law: Obtaining Clearance: When and Why to Get Permissions and Releases
By Maria A Savio, Esq.
14 Technique: Indirect Oil Painting
18 Art Entrepreneur: Attending National Photography Portfolio Reviews
39 The Listings: Compiled by the Art Calendar Team
Your best source for art opportunities. Find awards, galleries reviewing portfolios, grants, fellowships, juried shows, festivals, residencies, and professional development courses.
48 ArtScuttlebutt.com Member of the Month: Doug Forsythe
By Louise Buyo