People around the globe rallied to aid Haitians after the terrible earthquake of January 12th. In Brooklyn, New York, with its large Haitian population, the disaster was deeply felt. Throughout the boroughs and New York City, dozens of fundraisers and benefits were held within days after the tragedy.
The pioneering Tabla Rasa Gallery, the sole gallery in Brooklyn's industrial Sunset Park neighborhood, was particularly fast off the mark, hosting its fundraiser on January 23. Owners Audrey and Joseph Anastasi have a long history of community service, including raising money for clean water in Africa (playpumps.org), as well as hosting public school students ranging from grade school through university level. Historically, they have defended artist's rights, never asking artists to work for free. The enormity of this disaster made this a unique case. Audrey stated, "I think that there was a time element and in order to do an effective fundraiser it had to be quick and simple. In order to compensate in some way, I encouraged the donors to thank artists directly."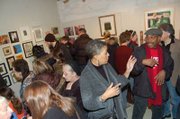 The benefit was elegantly simple. Gallery artists and those connected to the gallery were asked to donate a work of art. Tabla Rasa dedicated its back room for a single weekend day and mobilized its extensive publicity resources. The Anastasi's also enlisted help of volunteers from New York University's Division of Special Studies in Symptom Management/ College of Nursing. All day, the gallery was packed. The team hung work as it arrived throughout the day, greeted guests, took payments and wrapped sold items. The show was kinetic, with art arriving and departing at speed. Work constantly "turned over" as donations arrived and new art replaced work being taken. In some cases, items never made it to the wall, as they were snagged by collectors before installation. This was the case with work by master printmaker Agnes Murray and painter Anders Knuttson.
The mechanics of the purchase process was also simple, which probably contributed to the event's success. Anyone writing a check of $75.00 directly to one of four designated charities could select an artwork 11" x 14" or smaller. Anyone donating $150.00 could select from those or one of the larger works. In this way, 100 percent of all donations went to the charities. By day's end, the benefit had raised more than $11,000 for Doctors Without Borders, Oxfam, Mayor's Fund for New York City/Haitian Relief and Catholic Relief Services.
Mixed emotions were apparent — pain and compassion, as talk drifted to the disaster, and joy and community as participants found meaning in taking some action — but it was the feelings of excitement and pleasure in doing good that dominated. The simplicity of the benefit kept it clear of politics and self-interest. When I described the event to others, I told people, "They did everything right."
For more information on the event, visit www.tablarasagallery.com.AC
---
Brooklyn-based artist Gregory William Frux paints both urban landscape and wilderness scenes, the latter inspired by mountaineering. His landscapes range from Northeastern United States' forests, to Rocky Mountains, desert California, Alaska, Yukon and Bolivian Andes. He served as artist-in-residence in Glacier, Joshua Tree and Death Valley National Parks and worked as artist aboard ships in Antarctica and Arctic Norway. Frux's painting have been exhibited at Lincoln Center, the Cordova Historical Museum, the Coney Island Museum, the Salmagundi Club, Long Island University, Brooklyn College, offices of HBO and the United States Embassies in Ethiopia and Madagascar. He was the first American to show at the Kyrgyz National Museum of Art. The Library of Congress, Metropolitan Transportation Authority, NYC Department of Education and National Park Service own his work. To see Gregory's work, visit his Web site http://frux.net.