On her Web site, www.lgruger.com, ArtScuttlebutt.com member Lindy Gruger Hanson offers "original acrylic paintings (to) uplift your spirit." By creating playful, whimsical works of art, the 51-year-old painter hopes to bring positive energy into the lives of others.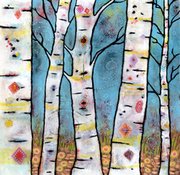 "I would hope that people find a lot of joy in my work and that it makes people smile," she states. "It makes me happy that people find my work interesting."
Drawn to the works of Kandinsky, Miro, Chagall, Gruger Hanson creates art that is deeply imaginative — "whimsical" is the word she uses most often when describing her work. Bursting with vivid colors and filled with spirals, birds, trees, shapes and lines, her paintings communicate Gruger Hanson's vision of life and the universe through a unique, symbolic language.
"One of the main themes throughout my work is the idea that we're all made up of energy," Gruger Hanson explains. "Although everyone travels along their own path, I believe that we're all one with the earth, that everything is alive and that everything is connected."
Originally a native of Seattle, Washington, Gruger Hanson earned her B.F.A. in art from Washington State University in 1981. After graduation, Gruger Hanson pursued a "dual career": She worked as a computer production artist in graphic design and at the same time, she painted.
When Gruger Hanson was 36 years old, she went on a three-month backpacking trip across Europe. The different things she saw opened her eyes to new possibilities.
"While I was there, I met so many people who had such a large, expansive view of the world," she recalls.
Upon returning home, Gruger Hanson realized she was ready to make a major change in her life: "When I got back to Seattle, I just felt like I couldn't stay in the same city that I grew up in." She jotted the names of three places on slips of paper, put them into a hat, chose one at random and ended up with New York. Looking back at that moment, Gruger Hanson remembers thinking, "I knew it was the right one because I felt so happy."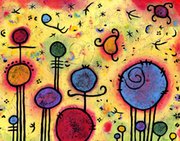 She moved to New York in 1996 with the intention of becoming an art therapist. She enrolled in a certificate program at the School of Visual Arts and started taking classes. She also joined an artists' group called The 14th Street Painters, represented by Earl Gallery. Not surprisingly, all of these big changes had a profound effect on her artwork.
"New York was a huge turning point for my art. I developed my style while I was in New York," she says.
Once Gruger Hanson received her certificate, she decided to pursue a master's degree in art therapy in Portland, Oregon. Although she enjoyed her studies, she came to the conclusion that she would prefer to focus exclusively on making art. She moved again, this time to Bend, Oregon.
Nowadays, Gruger Hanson is represented by Tumalo Art Co., a local gallery in Bend. She still enjoys traveling and chronicles her voyages, along with her paintings, on her blog "L. Gruger Whimsical Art & Travels Blog." This summer, she is headed down to Baja California with her boyfriend and their two dogs for a two-month road trip. She'll spend the time preparing for a solo show at Tumalo Art Co. in the fall.
In particular, Gruger Hanson is working on a series of paintings inspired by the beautiful birch trees that surround the Black Butte Ranch in Oregon. Once she saw those trees, Gruger Hanson immediately envisioned them with colorful symbols etched on their bark. In the following days, she couldn't get the concept out of her mind and became determined to capture that feeling in her work.
"It's like the trees were alive, you know? It was as if their essence were speaking to me," she muses.
Gruger Hanson is listening, and she's open to whatever the world has in store for her. AC
---
ArtScuttlebutt.com is the online community for Art Calendar and ArtCalendar.com. Artists are invited to create a profile and post an online gallery free of charge, participate in the discussion forum and take advantage of the other services at the site.