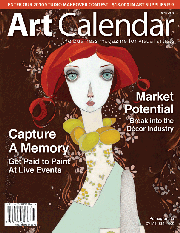 ON THE COVER:
Pomegranate
By Melissa Peck
Oil on panel, 12" x 8" (See profile on page 18).
Download a Digital Copy of this Issue
---
Features
18 Melissa Peck: A Decade of Defying the Odds
Interview by Kim Hall
21 14 Tips for Creating Outstanding Art Events
By Renée Phillips, The Artrepreneur Coach
24 The Allure of Décor Art
By Carol Peter
28 Cool Glass Center Offers Red Hot Fun for Everyone
By Ligaya Figueras
30 Form Meets Function in the Kitchen: The Business of Culinary Artwork
Columns
32 The Photo Guy: Giving Your Jury Submissions a Professional Look
34 Coaching the Artist Within: Even Artists Get the Blues: Cognitive Self-Help
35 Heart to Heart: New Strategies for Hard Times
By Jack White
Departments
04 From the Editor
05 Best Business Practices
From Jodi Walsh, Artist Career Consultant
06 Art School Confidential
08 Gallery Talk: Focus on Providence, RI
10 Motivation: The Measure of Success
By Matthew Daub
12 Art Shows: Less is More at 2010 Whitney Biennial
16 Art Entrepreneur: Live Narrative Art, with a Twist
36 The Listings: Compiled by the Art Calendar Team
Your best source for art opportunities. Find awards, galleries reviewing portfolios, grants, fellowships, juried shows, festivals, residencies, and professional development courses.
44 ArtScuttlebutt.com Member of the Month: Ines Kramer
By Louise Buyo