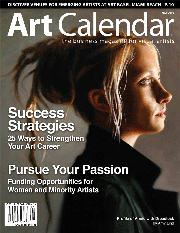 ON THE COVER:
Profile of Annie with Dreadlock
By Amy Lind
Oil on canvas, 18" x 24" (See profile on page 16).
Download a Digital Copy of this Issue
---
Features
16 Amy Lind: Raising the Bar for Emerging Artists
Interview by Kim Hall
20 Unique Opportunities for Female Visual Artists
Compiled by Ligaya Figueras
22 Funding Options for African American Artists
Compiled by Ligaya Figueras
24 Career Support for Gay/Lesbian Artists
26 How the Virtual World of Second Life® Creates Opportunities for Homebound Artists
28 Art for Your Health: Explore a Career in Health Care
Columns
31 Heart to Heart: Know Your Business Partners
By Jack White
36 The Photo Guy: Fine-Tune Your Digital Images Using Contrast and Sharpening
31 Coaching the Artist Within: Even Artists Get the Blues: Existential Self-Care
Departments
04 From the Editor
05 Best Business Practices
From Jodi Walsh, Artist Career Consultant
06 Art School Confidential
07 Gallery Talk: Focus on Salt Lake City, UT
08 Motivation: Knowing When to Take a Break
10 Art Shows: Emerging Art at Art Basel Miami Beach 2009
14 Art Entrepreneur: 25 Golden Rules of Success
By Renée Phillips, The Artrepreneur Coach
36 The Listings: Compiled by the Art Calendar Team
Your best source for art opportunities. Find awards, galleries reviewing portfolios, grants, fellowships, juried shows, festivals, residencies, and professional development courses.
44 ArtScuttlebutt.com Member of the Month: Amy Guidry
By Louise Buyo