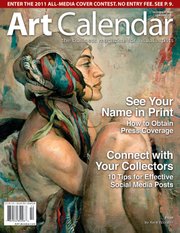 ON THE COVER:
Pilot
Oil on linen, 28'' x 22''. (See profile on page 14.)
Download a Digital Copy of this Issue
---
Features
08 Writing About Your Work
10 See Your Name in Print: How to Get Media Attention
14 Kent Williams: Exploring Narratives
by Kim Hall
18 Less Than 49 Characters: Mastering E-mail Subject Lines
20 Social Media Strategies: 10 Tips for Effective Micro Blogging
by Annie Strack
22 The Secret to Writing a Better 'About' Page for Your Blog
by Cynthia Morris, CPCC
Columns
28 Photo Guy: Photo Frames, Projectors and iPods
30 Heart to Heart: Dream. Commit. Do.
By Jack White
31 Coaching the Artist Within: The Depressed Printmaker
Departments
04 From the Editor
32 The Listings: Compiled by the Art Calendar Team
Your best source for art opportunities. Find awards, galleries reviewing portfolios, grants, fellowships, juried shows, festivals, residencies, conferences and professional development courses.
40 ArtScuttlebutt.com Member of the Month: Katharine Cartwright
By Louise Buyo