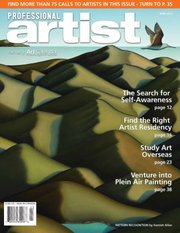 ON THE COVER:
Pattern Recognition
By Hamish Allan
Acrylic on canvas, 76cm x 76cm. (See page 16.)
Download a Digital Copy of this Issue
---
Features
10 Dealing with Rejection
12 The Search for Meaning: Self-Awareness
by Matthew Daub
15 Creating an Evite
by Jodi Walsh
16 Strange Paradise: The Landscapes of Hamish Allan
by Louise Buyo
18 Artist Residencies: Deciding Which Programs are Best for You
23 Studying Abroad: Preparation for Pursuing the Elusive M.F.A.
26 Finding Your Way in Artist Residencies
28 When Creative Impulse Meets Social Consciousness
Columns
31 Heart to Heart: Watch What You Say!
By Jack White
32 Photo Guy: A Quick Guide to Video: Part 1
34 Coaching the Artist Within: Go Forth and Paint En Plein Air
Departments
06 From the Editor
35 The Listings: Compiled by the Professional Artist Team
Your best source for art opportunities. Find awards, galleries reviewing portfolios, grants, fellowships, juried shows, festivals, residencies, conferences and professional development courses.
33 ArtScuttlebutt.com Member: Mimi Jensen
By Louise Buyo