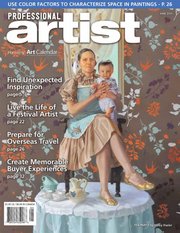 ON THE COVER:
Tea Party
By Haley Hasler
Oil on linen, 66'' x 42''. (See page 30.)
Download a Digital Copy of this Issue
---
Features
05 Scratching
by Jodi Walsh
06 The Search for Meaning: Contemporary Relevance
by Matthew Daub
09 Work in Progress
10 Using Color Factors to Characterize Space in Painting
14 Got Wire? The Basics of Getting Your Paintings Ready for Shows
17 Artists as Teachers: Helping Us Attain Our Highest Potential
by Renée Phillips, The Artrepreneur Coach
22 Choosing Art Shows, Fairs and Festivals as a Lifestyle
by Paul Grecian
26 How to Pack for an Overseas Workshop
by Marilyn Gasparini
30 The Many Faces of Haley Hasler
by Louise Buyo
Columns
20 Photo Guy: A Quick Guide to Video: Part 3
25 Coaching the Artist Within: Using Small Intervals of Time
31 Heart to Heart: Just Another Transaction or an Exceptional Experience?
By Jack White
Departments
04 From the Editor
33 The Listings: Compiled by the Professional Artist Team
Your best source for art opportunities. Find awards, galleries reviewing portfolios, grants, fellowships, juried shows, festivals, residencies, conferences and professional development courses.
40 ArtScuttlebutt.com Member: Elizabeth Barlow
By Louise Buyo