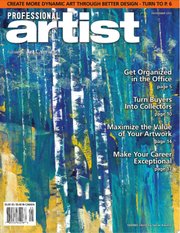 ON THE COVER:
Fading Light, 2010
By Susan Swartz
Acrylic on linen (see page 28).
Download a Digital Copy of this Issue
---
Features
04 De-Clutter Your Life
05 Get in the Box
by Jodi Walsh
06 Design is Not a Dirty Word
by Matthew Daub
10 Enhancing the Art Buying Experience: How to Turn Buyers into Collectors
by Annie Strack
14 Maximize the Value of Your Art
by Renée Phillips, The Artrepreneur Coach
18 Perspective Technique Tutorial: Drawing Houses on a Steep Hill
by Abigail Daker
24 Understanding the Aesthetic Power of Geometric Abstraction
by Stephen Knudsen
28 Nature Sublime: The Paintings of Susan Swartz
By Louise Buyo
30 Planning Your Art Business: Part 1, A Holistic Approach
Columns
13 Coaching the Artist Within: Prove the Exception
16 The Photo Guy: Photographing Artists at Work
31 Heart to Heart: Happiness is an Inside Job
By Jack White
Departments
04 From the Editor
33 The Listings: Compiled by the Professional Artist Team
Your best source for art opportunities. Find awards, galleries reviewing portfolios, grants, fellowships, juried shows, festivals, residencies, conferences and professional development courses.
40 ArtScuttlebutt.com Member: Mark Mulholland
By Louise Buyo