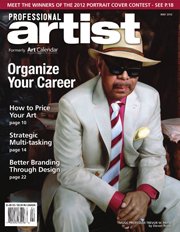 ON THE COVER:
Music Professor Trevor W. Payne, 2011
Oil on panel, 36" x 36" (see page 18).
Download a Digital Copy of this Issue
---
Features
04 Body of Work
06 Exploring the (e)merge art fair in Washington, DC
10 Pricing Your Work to Meet Your Goals
By Paul Grecian
12 Planning Your Art Business: Part 6: Creating a Marketing Plan
By Robert Reed
13 Best Business Practices: What Artists Should Expect from Galleries
By Jodi Walsh
14 The Multi-tasking Artist: How to Keep All the Balls in the Air
By Annie Strack
18 Winners of Our 2012 Portrait Cover Contest
By Kim Hall
22 Working with Graphic Designers: The Secret to Superior Marketing Materials
By Renée Phillips, The Artrepreneur Coach
26 Varnishing Acrylic Paintings: Excerpt from the book The Profitable Artist
Columns
17 Coaching the Artist Within: Confidently Navigating the Stages of the Creative Process
25 Heart to Heart: Learn to Write in the Sand
By Jack White
30 The Photo Guy: Copyright or Copy Wrong?
Departments
02 From the Editor
By Kim Hall
32 The Listings: Compiled by the Professional Artist Team
Your best source for art opportunities. Find awards, galleries reviewing portfolios, grants, fellowships, juried shows, festivals, residencies, conferences and professional development courses.
40 Artist Spotlight: Nell C. Tilton
By Kim Hall