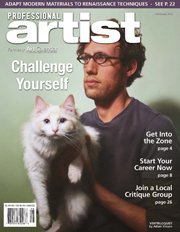 ON THE COVER:
Ventriloquist
By Adam Vinson
Oil on panel, 18" x 14" (see page 18).
Download a Digital Copy of this Issue
---
Features
04 Getting Into the Zone
08 Start Now
By Matthew Daub
12 Inside the Artist's Studio: Part 2
18 Path of the Apprentice: The Art of Adam Vinson
By Kim Hall
22 A Modern Slant on the Old Master Techniques of Piero della Francesca
26 The Benefits of an Art Critique Group
28 Artists Share Their Vision, Passion and Purpose
By Renée Phillips, The Artrepreneur Coach
32 Planning Your Art Business: Part 9: Reviewing Your Business
By Robert Reed
Columns
6 Coaching the Artist Within: When Your Next Work Isn't Quite Available
16 Much Ado About Images
33 Heart to Heart: Smile!
By Jack White
Departments
02 From the Editor
By Kim Hall
34 The Listings: Compiled by the Professional Artist Team
Your best source for art opportunities. Find awards, galleries reviewing portfolios, grants, fellowships, juried shows, festivals, residencies, conferences and professional development courses.
40 Artist Spotlight: Sherrie Parenteau
By Kim Hall