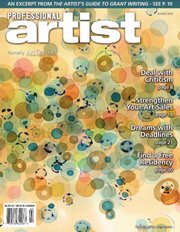 ON THE COVER:
Umbria VII, 2011
By Jan Heaton
Watercolor on Fabriano cold-pressed 100% cotton paper, 22" x 22" (see page 16).
Download a Digital Copy of this Issue
---
Features
04 Art as Alchemy: Part 1: The Power of the Artist
By Matthew Daub
07 Best Business Practices: Common Sense Practices for Working with Galleries
By Jodi Walsh
08 Dealing with Negative Feedback
10 Fundraise Strategically: Excerpt from the book The Artist's Guide to Grant Writing
16 Dreaming in Color: The Evocative Watercolors of Jan Heaton
By Kim Hall
18 Strengthen Your Art Sales: How to Build Customer Loyalty
By Renée Phillips, The Artrepreneur Coach
21 Planning Your Art Business: Part 4: Goals, Dreams with Deadlines
By Robert Reed
24 Applying to Artist Residencies: How to Submit a Winning Proposal
27 Inside the Residency Program at Skowhegan: Challenging Emerging Artists through Mentorship and Critique
30 Free Residency Programs for Visual Artists
Columns
14 The Photo Guy: Choosing the Right Camera by Comparing Image Quality
22 Coaching the Artist Within: Tackling a Productive Obsession
32 Heart to Heart: Gratitude
By Jack White
Departments
02 From the Editor
By Kim Hall
33 The Listings: Compiled by the Professional Artist Team
Your best source for art opportunities. Find awards, galleries reviewing portfolios, grants, fellowships, juried shows, festivals, residencies, conferences and professional development courses.
40 Artist Spotlight: Debb VanDelinder
By Kim Hall