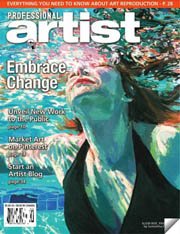 ON THE COVER:
Slow rise, five feet
Oil on canvas, 48" x 36" (see page 20).
Download a Digital Copy of this Issue
---
Features
04 Embrace Change
06 Working with Art Galleries: Part 2
By Matthew Daub
10 Best Business Practices: Introducing New and Different Work to the Public
By Jodi Walsh
12 Is Email Marketing Effective?
By Daniel Grant
14 Using Pinterest to Promote Your Work
By Katie Reyes
17 Planning Your Art Business: Part 8: Sorting Artbooks Data
By Robert Reed
20 Between Form and Abstraction: The Underwater Paintings of Samantha French
By Kim Hall
24 Breaking Rules to Create Vitality: The New Media Work of Eija-Liisa Ahtila
28 The State of the Art of Art Reproduction
By Eileen Fritsch
34 Blogging for Artists
By Terry Sullivan
38 22 Golden Rules for Saving Time
By Renée Phillips, The Artrepreneur Coach
Columns
9 Coaching the Artist Within: Weathering Painful Criticism
18 The Photo Guy: Lighting That's Really Cool
37 Heart to Heart: Sayings from Texas
By Jack White
Departments
02 From the Editor
By Kim Hall
42 The Listings: Compiled by the Professional Artist Team
Your best source for art opportunities. Find awards, galleries reviewing portfolios, grants, fellowships, juried shows, festivals, residencies, conferences and professional development courses.
48 Artist Spotlight: Ranjini VenkataChari
By Kim Hall