Here's a preview of just a few of the articles appearing in the November 2012 issue of Professional Artist. Find us at your local bookstore or view the full contents page and purchase the digital edition here: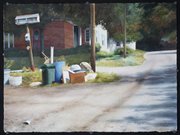 Turning the Page: Working your way through the post-exhibition blues
By Matthew Daub
When I commit to having a solo show, I know what I am getting myself into. I normally keep up a regular and disciplined studio practice, but when a show looms my life changes drastically. I begin getting up very early in the morning, sometimes as early as 4:30, to get in a good day in the studio, even on days when I teach at the university. After having dinner with my wife, I will often head back to the studio in the evening for another hour or two. I usually work seven days a week. I can be a procrastinator about many things, but not when it comes to my professional commitments. I will keep this up for about two years, as much time as it usually takes me to put a show of new works together. As demanding as this schedule can be, I enjoy these times immensely. I can understand why someone would run a marathon or compete in some ultra-endurance event. It is not only pain that an endurance athlete experiences but a deep satisfaction that intensifies one's sense of being alive. When preparing for a show, I don't feel pressured; I feel fulfilled.
When the show is over, another great change takes place. I would say that it is something akin to post-partum depression. It took me by surprise after my first few shows and still hits me, but now that I know what to expect I have a much easier time dealing with it. No matter how successful a show may be, when it is finished I am lost; I am stuck. I know that I must turn the page, but the next page is blank, and I don't know what belongs on it...
To continue reading, get the digital edition here.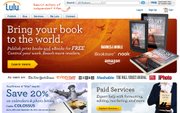 Make Some Cash with Your Art by Publishing Your Own Art Books
By Steve Meltzer
Have you noticed that, despite the iPad, Kindle and other tablet devices, most of us still have a pile of magazines and coffee table books in our living rooms? It is hardly surprising. Tiny screen images are okay for a quick glance at artwork, but it is not the best way to see art. Nothing beats the force of an original painting on the wall or gorgeously reproduced photographs in a large coffee table book. An impressive, detailed print provides an impact that is lost on a screen. Art is a tactile experience as well as a visual one. Not only do we see a printed image more deeply than a digital one on a screen, but we can also feel its weight and texture when holding it in our hands. Too often artists overlook the potential uses of their art in the "real" world. As a photographer, I learned early on that my images are not simply photographs; they are creative content.
To continue reading, get the digital edition here.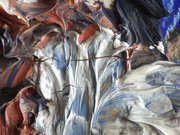 Making Artworks that Stand the Test of Time
By Terry Sullivan
Although oil painters since Jan van Eyck in the 15th century have been able to produce paintings that did not deteriorate, there were always renegades. Leonardo da Vinci is renowned (or perhaps "infamous" is a better word) for his experimental mishaps, including The Last Supper mural. Instead of following a traditional style of mural painting — painting directly into wet plaster in the fresco technique — Leonardo attempted to paint in layers on the wall, which eventually flaked away. It's also been speculated that he combined oil and tempera paint — literarily mixing oil and water together! If you consider works of art produced in the last hundred years, you'll find many more artists who, in the name of experimentation (a key hallmark of modernism), have chosen to include decidedly non-art materials in their work.
For some, the concept of innovation via experimentation trumps all — traditions be damned. But for those who want to create works that last, there are a variety of guidelines and resources to which you can refer.