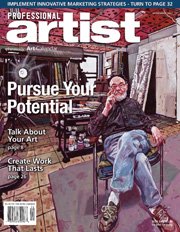 ON THE COVER:
Bob Birmelin
By Mel Leipzig
Acrylic on canvas, 36" x 48" (see page 18).
Download a Digital Copy of this Issue
---
Features
04 How Artwork Finds Its Owner
06 Microloans for Artists
By Daniel Grant
08 The Artist Talk: Why and Where You Could Be Talking Right Now
09 Working Your Way Through the Post-Exhibition Blues
By Matthew Daub
14 Exploring Surfaces for Soft Pastels
18 Beyond the Portrait: Reflections from American Master Realist Mel Leipzig
By Kim Hall
26 Making Artwork that Stands the Test of Time
By Terry Sullivan
31 Planning Your Art Business: Part 11: Keep or Toss?
By Robert Reed
32 Stretch Your Marketing: Three Artists Thinking Outside the Box
By Renée Phillips, The Artrepreneur Coach
Columns
24 Publish Your Own Art Books
36 Heart to Heart: What If?
By Jack White
37 Coaching the Artist Within: Minding Your Mind
Departments
02 From the Editor
By Kim Hall
38 The Listings: Compiled by the Professional Artist Team
Your best source for art opportunities. Find awards, galleries reviewing portfolios, grants, fellowships, juried shows, festivals, residencies, conferences and professional development courses.
44 Artist Spotlight: Teresa Haag
By Kim Hall